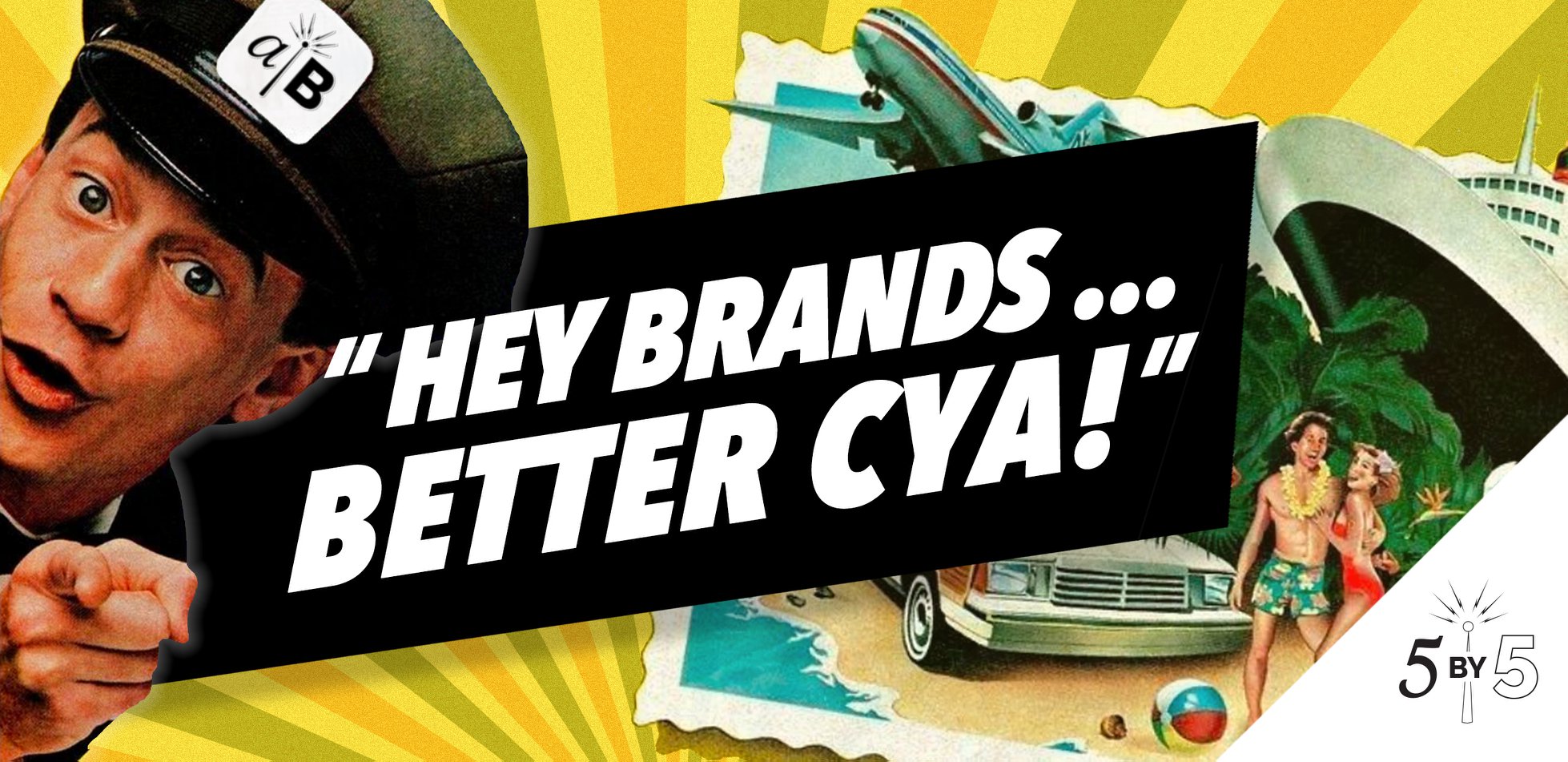 This was our most-read blog post of 2019. It's also a topic that continues to evolve, so we've updated it for 2020.
Sweepstakes are ideal for building brand awareness, growing your social media following and capturing new leads. The proliferation of online platforms makes running a sweepstakes less intimidating and more cost-effective. But, because they're seemingly simple, brands are handling it themselves, without a full understanding of the rules of promotion law. And that can cause problems.
If you're giving away relatively small prizes, it's unlikely you'll make a very costly mistake in terms of fines. But reputation is critical for modern businesses, and a mistake could cause long-term damage to your brand. Cover your brand's a#$ by following these 5 rules.
Rule #1: A sweepstakes by any other name…
Regardless of the type of promotion you run, you cannot require a purchase unless you're a legal state lottery. Which I'm betting you're not (see what we did there?).
If you plan to judge entries based on a set of criteria, you're running a contest. For example, a home improvement company holds a photo contest asking consumers to send in a picture of their outdated master bathroom. The worst looking picture will win a free bathroom makeover. The criteria for choosing a winner might include: outdated colors or style, unorganized space, lack of storage, greatest potential for improvement, etc.
If you're asking people to post a photo or fill out a form and then randomly selecting a winner, you've got a sweepstakes. In this case, entrants are invited to provide specific information (i.e. an email address, a name and phone number) in exchange for a chance to win a prize.
Calling it what it is will help you determine how to set it up, what legal requirements you'll need to consider, how to write the rules, and how the winner(s) will be chosen.
CYA Tip: If you keep your prize amount under $600, you won't need to worry about the tax forms associated with winning a prize.
Rule #2: Follow the letter of the (promotion) law
Just because running a sweepstakes is fairly easy, doesn't mean you don't have to follow the rules of promotion law.
And the first rule of promotion law is that every contest or sweepstakes must publish Official Rules and abbreviated rules somewhere easily accessible to the public. Each social media platform has different regulations when it comes to sweepstakes. While you can require that people follow your Instagram page to enter, doing so on Facebook could get you into trouble. If you're running a Sweepstakes on Facebook, you'll need to include:
A complete release of Facebook by each entrant or participant
Acknowledgement that the promotion is in no way sponsored, endorsed, administered by or associated with Facebook. You can get all of Facebook's policies here.
The Official Rules for a sweepstakes typically begins with the same three words: "No purchase necessary." That's because, as we mentioned in Rule No. 1, you can't have consideration in a sweepstakes. Keep in mind that while "consideration" is widely understood to mean payment, it does go beyond paying a fee. Let's say you're hosting a sweepstakes and decide to place an ad in a move theater with entry info (before the movie starts, viewers are invited to text a code to a number for a chance to win). Promotion law dictates that you have to make it easy for people to access and enter your sweepstakes. If the only people who can enter are those who have paid for a movie ticket and see the ad, you've added consideration to your sweepstakes, which makes it illegal.
Other forms of consideration that are popular include likes, tweets, shares, comments, etc. There's no clear legal guidance on this, but each of the 50 states has their own definition of consideration. Keep your sweepstakes legal by including an Alternate Means of Entry (AMOE) for people who might not see your ad or social post. Be sure you understand your state's rules of promotion law before kicking off your sweepstakes, because once it goes live, your rules can NOT be changed.
CYA Tip: If the prize value is over $600, you'll need to register and bond your sweepstakes. You'll also need to administer winners' affidavits and 1099/1096 IRS forms.
Rule #3  Lower the bar(rier)
In general, the larger the prize, the more information you can request from entrants. If you're giving away a $10 gift card, ask for the minimum (name, email address) to make entering quick and easy. If your grand prize is a trip for two, valued at $4,000, entrants will likely share more information (company name, company size, email, phone number, perhaps). If possible, use the social media auto-fill option in forms – this can increase conversion rates by close to 200%!
While you've got their attention, consider adding a question or two that offers insight into your target audience. A real estate company might ask "How soon do you plan on buying or selling a home?" A home improvement company might ask "Which room in your home is most in need of a makeover?" Find out more about your audience so you can target them with information they need and want, and qualify potential sales leads.
CYA Tip: Perceived value is often worth more than the actual value of a prize. For example, giving away a box of chocolates at Valentine's Day has a high perceived value because of the relevance and timing of the prize. Giving away "free lawn service for a year" has a high perceived value but if you define that in the rules as "one lawn services per month for 12 months" the cost to your company might be much lower.
Rule #4: Plan for the what-ifs
Let's say your algorithm has chosen a random "potential" winner. You've tried three times to call this person, sent emails and left two voice mail messages. Nothing. After four days of waiting, you have the computer pick another winner, and give the new winner a call. He answers on the first ring and is thrilled with the news. A few hours later, the original winner calls back, having just returned from vacation. Now what?
Your rules should clearly state how a potential winner will be contacted and how long a potential winner has to accept the prize. For example: "Potential winner will be notified via phone and email. Three attempts will be made to reach out. If, after 5 business days, the winner cannot be reached, an alternate winner will be chosen." Always refer back to the Official Rules when letting potential winners know what to expect.
CYA Tip: Always use the term "potential winner" to refer to someone whose name is drawn as a winner of your sweepstakes or contest. That helps them avoid making assumptions until all the paperwork has been returned and you've determined they meet any/all requirements.
Rule #5: Don't miss the PR opportunity
If you want to announce the winner on your social media platform, you should use the person's first name and last initial only. Don't share a full name, or any other personal information. And don't use a photo of the winner without their express, written consent. If you do want to use the winner's name, likeness, photo, or other information for marketing or PR purposes, you'll need to have the winner fill out a consent form, and you'll also want to include that completed form as part of the qualifications for winning the prize.
Prize awarding is an event unto itself. Don't just send a check in the mail, show up with a video camera and capture the winner's expression! Share photos on social platforms. Not only does it increase your brand awareness, but it lets your audience know that someone really does win these things, which means next time you run a promotion there'll be fewer skeptics and more entrants.
CYA Tip: Include a (link to your) Privacy Policy on the entry page of your sweepstakes. This lets entrants know whether you plan to use their information in future promotions or share their info with other parties.
Interested in making social media work for your brand? Tour the Social Command Studio!