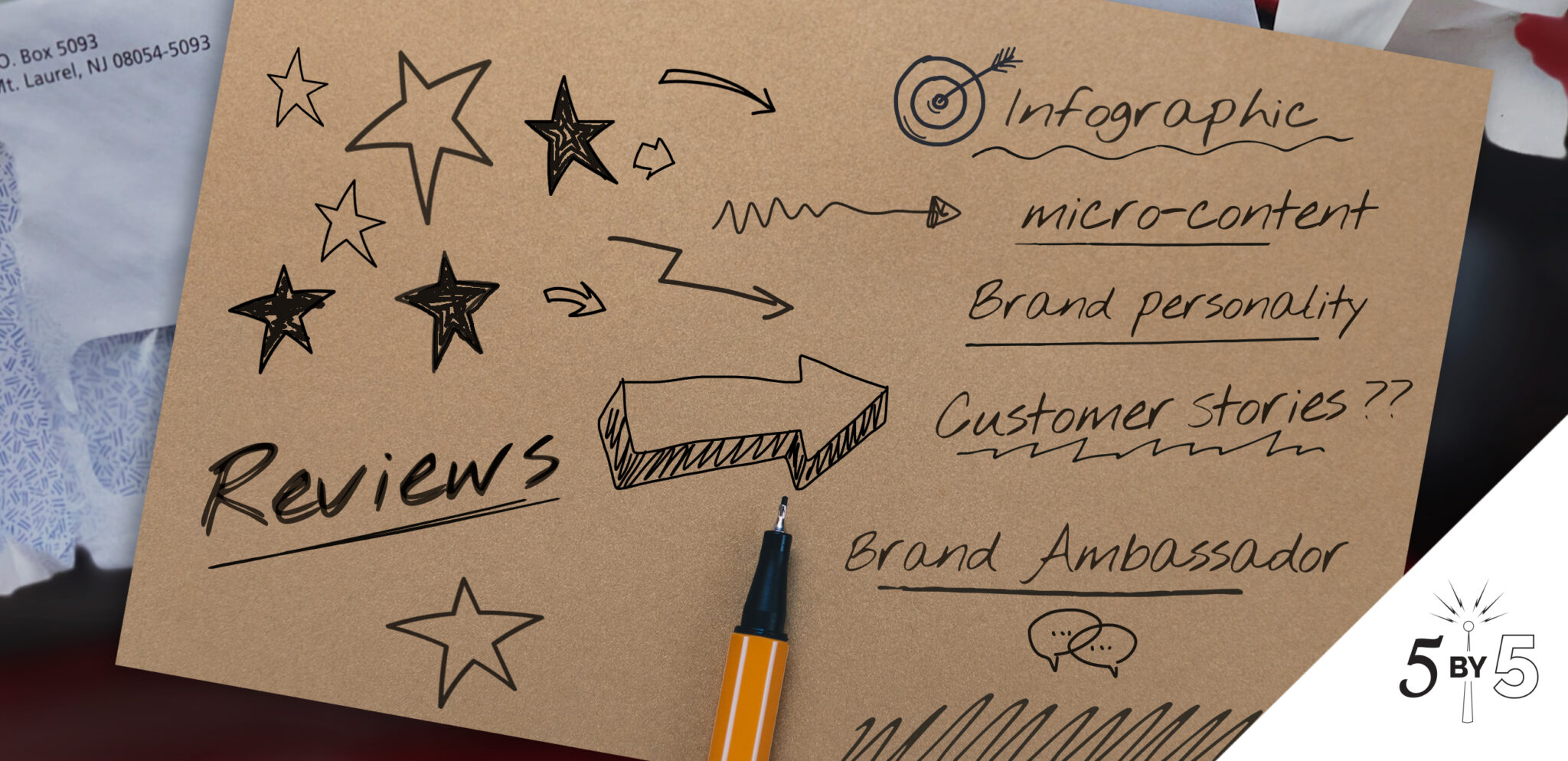 Review sites see a 200% higher conversion rate on average than paid ads. They also play an important role in the buyer's journey. In fact, online reviews impact purchase decisions for more than 90% of consumers and B2B buyers.  Not only do customer reviews build trust, but they can drive leads and revenue.
Remember testimonial pages on websites? Yep, that was a thing. Brands used customer reviews to create a page filled with testimonials. They weren't the most creative use of space, to be sure. Since then, review sites like Google My Business and Yelp have taken over, providing platforms for customers to share their experiences. That doesn't mean you should stop using your customers' reviews to drive traffic, encourage consideration and increase sales. But it does mean you can do better than a 'testimonials page' on your website! Here are 5 creative ways to use customer reviews in your content marketing strategy.
1. Craft compelling customer stories from online reviews
Reach out to customers who leave thoughtful reviews and ask to interview them about their experience. Write a customer story around their research, consideration, and purchase phases of the buying process that explains why they chose to buy from your company. You could create a video of the interview (with their permission, of course). Be sure to make your customer the hero of the story. Your product/service should play a supporting character, not the lead role! Here are 9 tips that can help you conduct a meaningful interview.
2. Design impactful infographics from online reviews
Infographics are highly visual and chock-full of data so that readers can quickly scan for valuable information. They are an ideal content format for audiences whose attention is difficult to capture. Customer reviews can help you better understand which of your products or services are most coveted and which might need some work. You can gather this information and build an infographic that shares the results. For example, read through all of your reviews and make note of the services most lauded (the top 5-8). Include details, along with quotes from reviews and average ratings for each. You can also look for any of your products/services that have received few to no reviews and build an infographic that brings more awareness to those products and services your customers know little about to encourage consideration.
3. Create micro-content from online reviews
Micro-content is an image or visual that provides specific details such as a quote or stat. This type of content tends to draw attention in the feed and stop the scroll for a higher click-thru rate. Micro-content can accompany a social post or paid ad to add relevance and drive engagement. If you've amassed a large number of reviews, you could create a pie chart that shows how many of each rating you've received or an animated, scrolling graphic of your highest ratings and/or most positive comments from customers. [Get 50 unique social media tips for small businesses]
We've created dozens of animated images like this one. Learn more about our content creation capabilities.
4. Build a brand ambassador program from online reviews
Did you know that nine in 10 people say recommendations from friends and family members are their most trusted from of advertising? Tapping into your most loyal customer base is a powerful way to grow your reach and build trust among your target audience. You can identify these loyal customers by listening closely to social media conversations and paying attention to your reviews. One of our clients recently earned a customer review that started like this: "I've been using this company for nearly 30 years and I've always been happy with their service!" This is a perfect example of a customer who'd make a great brand ambassador. Start by inviting long-time loyal customers who write thoughtful reviews to become 'brand ambassadors.' In exchange for sharing your brand's social media posts or writing their own approved content, you can offer them discounts, products, or branded swag. [Learn more about how to create a brand advocacy program.]
5. Develop your brand's personality from online reviews
The Crow's Nest, a dive bar in Maplewood (St. Louis), earned a 1-star review from an anonymous customer. True to their brand (their website proclaims "See what everyone's complaining about"), and in defiance to said reviewer remaining anonymous, they printed the review on t-shirts, bumper stickers, and mugs and sold them in the bar (still do). Caveat: We don't recommend brands take this approach with poor reviews from their customers. We highly suggest that you respond quickly and professionally to every review. Here's why.
That said, poor customer reviews aren't all bad news. Did you know that 40% of shoppers say negative reviews build credibility for a product or service? In fact, 95% of consumers assume a brand is posting fake reviews if there isn't a single bad score. Click here to learn more or watch this short 'reviews and fake news' video for more information.
Creating content from your customer reviews is a great way to lead prospects through the path to purchase, shape your brand's story, and drive revenue. If you're struggling to create content that converts, we can help. We've been crafting compelling content for service-based businesses since 2014. Reach out here.