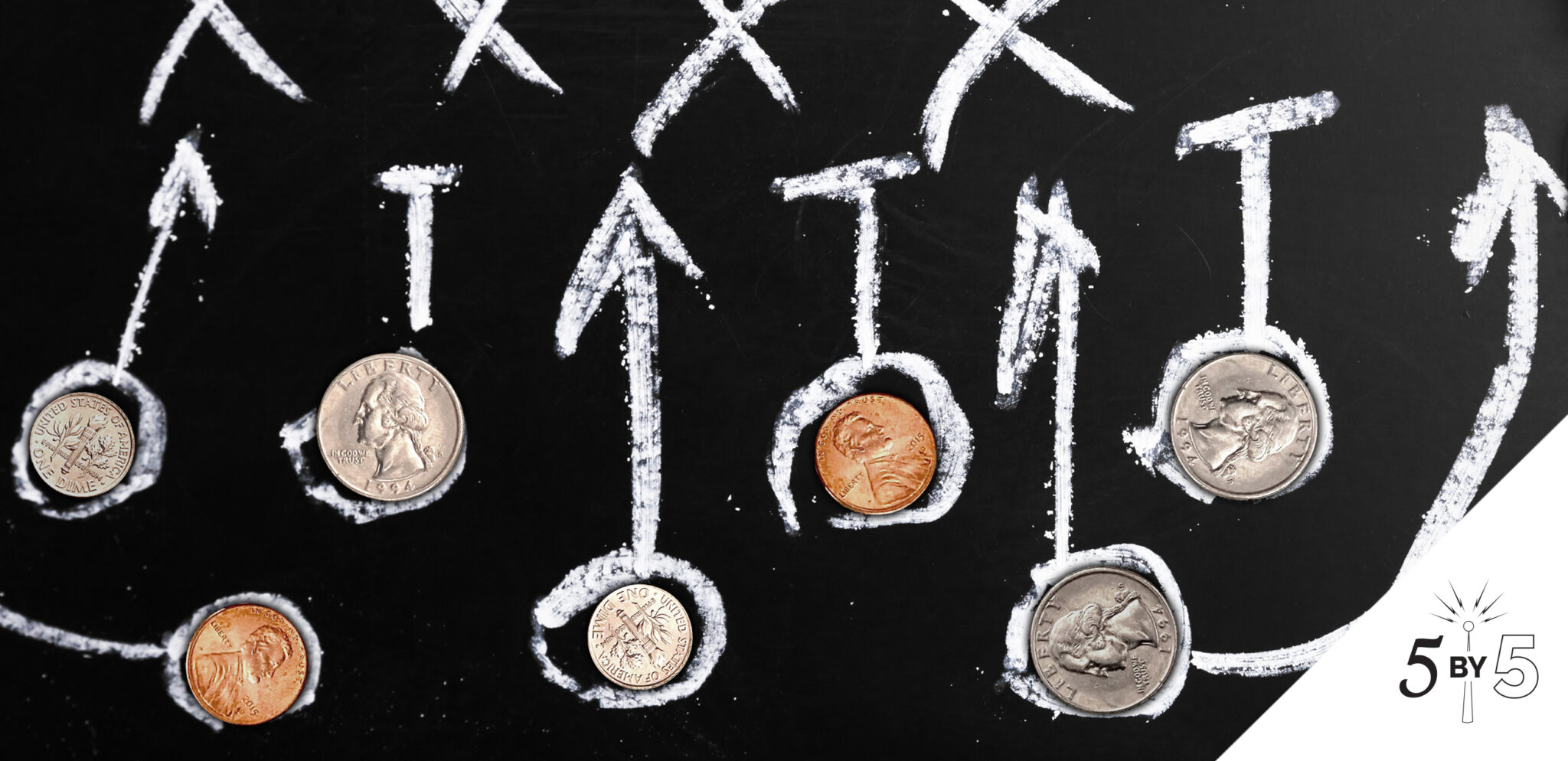 A recession is coming, says everyone. Publications from NPR and USA Today to CNN and Forbes are reporting that the likelihood of an economic recession is about 65%. We're seeing it in our social media feeds: comments from economists and CEOs alike, and a near avalanche of employees laid off amidst the uncertainty.
Small businesses typically take the largest hit in a recession, while the largest enterprises have more options, from laying off employees to freezing research and development initiatives. But for nearly all, marketing is the first budget to get slashed in an economic downturn.
With this in mind, here are 5 marketing plays that can keep your brand on the offensive in the midst of economic uncertainty.
Marketing Play #1: Focus on warm leads
A recession leads businesses and buyers alike to tighten budgets and curtail spending. That means a smaller pool of leads and fewer buyers. But it isn't cold leads that will fuel your business.
An HBR article famously stated that acquiring a new customer costs five to 25 times more than retaining those you already have. In times of economic uncertainty, I'm betting it's closer to the latter. It makes sense: the close rate of a cold lead is just 1.7%, whereas warm leads have an average close rate of 14.6%.
Warm leads are those that already know about your business and have shown an interest in your services. And while they might not need to make a purchase right now, odds are good that they will in the future and that they'll be more likely to purchase from you than from a competitor they don't know as well (or at all).
If you have an active social media presence, you already have access to a pool of warm leads. Your organic social media engagement is more critical than you realize – especially now. Focus your social media efforts on organic engagement – the largest cost is hours worked. And you can save a lot of hours by using a robust social media tool (i.e., we are big fans of Sprout Social). Especially if you're managing more than one social profile, it allows you to monitor, listen, and respond, all from a single dashboard.
Marketing Play #2: Pause bottom funnel social ads
You read that correctly. We both know how important paid social media is to your overall marketing efforts. Without a paid media budget, it's extremely difficult to grow your audience. It's also true that most companies are not looking to spend more money during uncertain economic times. So, pushing your sales agenda to cold leads isn't going to impact your revenue in any real way. Remember that only 5% of your target audience is ready to make a purchase at any given time. During a recession that drops to 1%.
Especially on LinkedIn, buyers look for insights that can help them get through the recession. They want tips and advice, and they want to see how their peers and competitors are managing. Thought leadership content will help keep your brand top of mind with your audience of warm leads. Continue to feed them relevant, timely content they can use. If you need to cut budget, cut it from your bottom of funnel ads. The 1% who want to purchase now will find you. Focus on the 99%. I know this flies in the face of needing to focus on your bottom line, but just because you want to increase your revenue doesn't mean your audience will suddenly start purchasing. [Read more about LinkedIn's 99:1 rule]
Marketing Play #3: Look to your current customers
Just a 5% increase in retention rates can boost profits 25% to 95%. That's a mighty compelling stat. It's easy to get into a rut of repetitive monthly tasks with annual retainer clients and forget that there may be new opportunities to improve their bottom lines. Consider adding new services or suggesting additional products that align with and work in concert with what they're already doing. Keep conversations going with regularly recurring meetings to discuss successes, identify opportunities for improvement, and share fresh ideas. Use social listening to pay closer attention to what your clients' customers are talking about, what services are top of mind with their audience, and what their competitors are doing.
Marketing Play #4: Create down-sell opportunities
When the pandemic shuttered doors and forced employees to work from home, many of our clients cut their marketing budgets and started laying off employees. We knew that our client POCs were in danger of losing their jobs. So, we created OPTIMATE, a consulting package exclusively for brands with smaller budgets and even smaller teams. It allowed our current clients to save money, added value to their marketing team members, and ensured their brand presence would remain strong throughout the upheaval.
If you know your customers are heading into a difficult time and may need to cut back, think about what you can offer that will add value while at the same time saving resources. Not only will you be keeping your own business alive and well, but you'll be helping your customers keep their businesses strong. And that level of customer experience won't be forgotten once the economy begins to turn around.
Marketing Play #5: Use what you already have
Rather than using your budget to create net-new assets, invest in a content & social media audit to determine which assets are working and to identify opportunities for improvement. It'll take a fraction of the time and budget and help extend the life of your content assets and your marketing budget.
Which assets performed the best? How might you be able to repurpose these into new formats?
Which assets didn't earn strong results? What can be done to improve upon them?
Take a closer look at your social media profile(s) for ways to improve and optimize your presence, reengage followers, and build trust. Tag every post by format, type, topic, and audience so that you can track which topics garner the most engagement and which aren't resonating with your audience.
Pausing your social media efforts is essentially giving up on your warm leads and ignoring your current customers and prospects – the very people who are most likely to help carry you through an economic downturn.
Most agencies will tell you that you should double down during a recession because you can capture buyers from your competitors who are cutting back right now. But, the customers who move to a competitor aren't doing so because they were force-fed "Buy Now" ads. They're doing it because they were nurtured with thought leadership content that kept their brand top of mind at a time when competitors were focused only bottom funnel messaging. The goal is to capture market share coming *out* of the recession.
If you're not sure how to do this or haven't been successful in the past, your team might benefit from behind-the-handle expertise. Consider bringing in a consultant to level up their efforts, teach them new tactics, and offer fresh insights and ideas other teams have successfully implemented.
Want to find out if your brand's social media strategy is set up for success? Take the Social Media Savvy Assessment now to find out.