As social media trends come and go and best practices are defined and refined, one thing that remains true is the idea that social media marketing is meant to spark conversations. It's what separates social media from other forms of media (print, tv, radio) that are traditionally one-way communications.
That opens the door to defining what successful two-way communication looks like on social media, especially for B2B audiences on the LinkedIn platform. The quickest, easiest engagement is a "like" and now that LinkedIn has added new "reactions," users can engage more specifically with just a click. And while LinkedIn does make it easy to click "repost," it's also the least engaging action you can take, and more importantly, it doesn't help move the needle on any LinkedIn engagement metrics.
What does move the needle are actions tied to the original post. Let's say you "like" an original post that 32 other people have already liked. Now it has 33 likes. But let's say, instead, that half of those people shared the original post to their own feed instead of "liking" it. The original post would have 16 likes and there'd be 16 other posts on various feeds, each with zero likes. Still with me? Now, if those same 16 people had all chosen to leave a comment on the original post rather than repost it, that original post would have better odds of shooting to the top of LinkedIn's "high-quality post" list.
What Strong LinkedIn Engagement Looks Like
The LinkedIn algorithm takes a range of factors into account to determine who sees the billions of posts published on the platform each day. The higher the post quality, the greater the potential for reach. If you're still following along, you might be wondering what makes a post high-quality. Great question!
According to this Hootsuite article a high-quality LinkedIn post:
Is easy to read
Encourages responses
Uses three or fewer hashtags
Incorporates strong keywords
Only tags people who are likely to respond (meaning your connections, not Michelle Obama or Elon Musk).
Because posts are sorted based on what the LinkedIn algorithm thinks is most relevant, adding valuable, thought-provoking commentary can help move a post to the top of the list. So, rather than repost other people's posts, go ahead and "like" it (or choose the most relevant reaction) and then take the time to leave a comment.
Based on the reaction you choose a related prompt appears in the comment space next to your name.
Like = Add a comment
Celebrate = Give your good wishes
Support = Share your support
Funny = Tell them why you find this funny
Love = Tell them what you love
Insightful = Tell them what you find insightful
Curious = Tell them what you're curious about
Don't worry if you're not the social type – this doesn't have to create unnecessary anxiety. In fact, we'd like to avoid that altogether. Here are 6 ways that you can slowly, and even masterfully, begin to improve your LinkedIn engagement.
Social Comment Type 1: The Pull Quote
There's nothing quite as telling – and flattering – as sharing a sentence or phrase from an article in a comment. It lets the author see their words through your eyes and can offer ideas for future content. If you read a line that speaks to you, copy and paste it into the comment and let the author know why. Michelle provides a great example of this in action.

Social Comment Type 2: The Question
Curiosity isn't just for cats; it's a valuable trait in leaders, as well. Comments on social posts don't have to be statements to be effective. In fact, questions help to keep the conversation going and oftentimes result in higher engagement. It's also one of the quickest and easiest comments you can make. The caveat? Don't be lazy! Be sure the author hasn't already answered the question in their article. Susan does this masterfully in the below example.

Social Comment Type 3: The Data Drop
B2B marketers love their data! When a connection shares a link to research or an article with analytics, calling it out in a comment is a great way to draw attention to it. You can also share a related stat from another credible source to draw a comparison or ask a question. In the post below, a fellow agency owner shared a post driving to new B2B marketing research, calling out a compelling ABM stat. I happened to see another ABM stat for a different source earlier that day and wondered what he thought. Here's my comment on his post:

Social Comment Type 4: The Empath
Sharing a personal anecdote or story helps your connections better relate to you and shows them that you understand where they're coming from or how they feel. Loree and Ann provide great examples of this below.

Social Comment Type 5: The Well Wisher
When people in your LinkedIn network share news (an announcement, an award, a speaking engagement, a promotion, etc.) you might be tempted to click the "Celebrate" reaction and move on, but taking the time to add your well wishes helps your connection's post earn much higher impressions. A simple "congrats" will do, but if you want your comment to have an impact on not only your connection's profile but on your own, your comment should include a minimum of 5 words. A few examples:
Best of luck on your new adventure!
Congrats, (name), you've got this!
This is fantastic news, congratulations!
Sounds intriguing – I look forward to watching/listening!
Way to go, (name), well deserved!
Social Comment Type 6: The Serendipitous
Sometimes I'll see a post on LinkedIn about a topic I just spoke with someone about. It could be that someone you know is job hunting for a specific role, and sure enough, another one of your connections posts that they're hiring for a similar position (don't forget to tag the person who is job searching!). Or maybe one of your connections posts an article on a topic you've been meaning to research. Whatever the case, take a minute to let them know how timely their post is. This is what Rebecca and Lisa do beautifully in the below examples.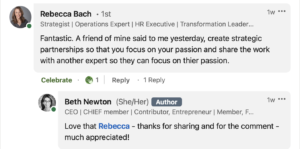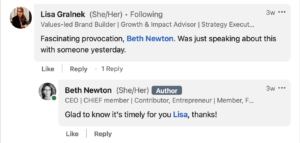 These are certainly not the only ways to engage with content on LinkedIn. And this is not to say that you should never click the REPOST button. But if you want engagement, keep in mind that people tend to follow the crowd. If the original post has 15 comments, and you share the post instead of commenting, your reshared post will have zero comments, making it more difficult to convince someone to leave the first comment.
And remember, when you comment on someone's post, you're also creating more brand recognition for yourself. When people view comments, they're also paying attention to who is doing the commenting. Each time I comment on a post, my own LinkedIn profile views increase, and as that post's engagement increases, I receive more views and more connection requests.
Start commenting on your connections' LinkedIn posts in a way that's both authentic and thoughtful, and you'll not only improve your LinkedIn engagement, but elevate your own brand at the same time.
Could you use behind-the-handle expertise to optimize your executive LinkedIn profile or company page? Request consulting and social media management pricing.