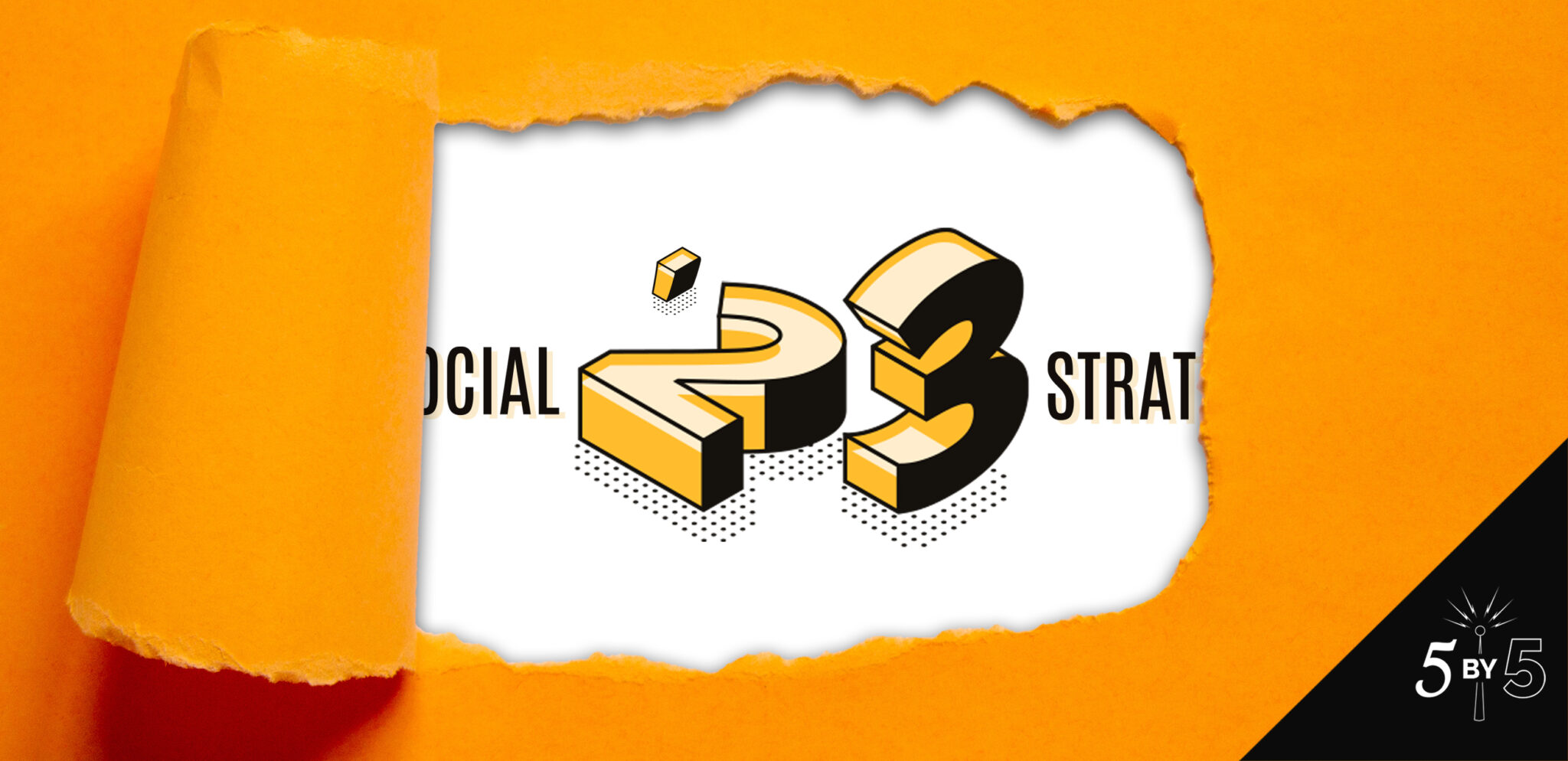 Be honest: Do you ever read the intro to a blog post? If you're like most people, you probably skip right down to the bold subheadings or numbered lists. So, let's avoid the preamble and jump right in to find out what social media strategies are coming in hot for the new year!
Social Media Strategy #1: Strengthen Your Talent Brand
You already know how difficult recruitment and retention is right now. Candidates have the upper hand and employers need to find ways to stand out to attract top talent. More than eight in 10 job seekers use social media in their job search and more than seven in 10 job seekers 18-34 found their last job via social media.
It's not just the younger generations that rely on social, though. More than 80% of job seekers consider employer brand and reputation before applying for a job, according to CareerArc's Future of Recruiting Study. And 90% of candidates would apply for a company that has a well-maintained employer brand. In fact, 67% of employees would work for lower pay for these companies.
That means, projecting the right image is critical, not just for recruiting, but for retention as well. Strong employer branding reduces attrition by nearly 30%, according to LinkedIn research. Furthermore, 43% of employees are passive candidates, according to the 2022 Job Seeker Nation Report. So don't make the mistake of assuming your current employees aren't quietly looking for their next opportunity.
A strong brand image does not necessarily equate to a strong employer image. Having a mission statement and a list of core values is great, but you'll need to walk the walk to draw the attention of top talent. Be honest: how many candidates have turned down your job offers in the past year? Publishing content that candidates look for can give potential employees a better idea of your work culture. Beyond detailed job descriptions with a link to apply, they look for:
Employee stories
Employee spotlights
DEI messaging
Nearly two-thirds (63%) of job seekers say they check social media for employee and consumer comments about workforce diversity, or lack thereof, at a company.
Keep in mind that 90% of job seekers follow brands on social media. Your social strategy should include talent branding content and an editorial calendar for consistent engagement on Facebook, LinkedIn, and Glassdoor.
Need a hand managing your company profiles? We are a Sprout Social Partner Agency with a long track record of success. Learn more.
Social Media Strategy #2: Implement an Executive Voices Program
Employee advocacy has been around for years, and there are hundreds of stats that prove its mettle. But when it comes to executive presence, there continues to be a drought even though countless reports and studies have shown its value:
76% of senior execs believe having a CEO on social media gives the brand more credibility.
86% of Americans believe transparency is more important than ever from businesses
77% of consumers prefer to purchase from companies with executives who are active on social media.
80% of employees would rather work for a CEO who engages with people on social media.
The benefits are numerous: build professional reputations of executives as trusted industry thought leaders, amplify voices around brand and industry content and increase credibility of both via the halo effect.
Remember that as a brand, it's not enough just to have a LinkedIn Company Page. Professionals visit LinkedIn to learn from their peers, gather industry insights they can take back to their organization, and network with like-minded professionals. So, while they might follow your company page and see your posts in their feed, they're more likely to engage with content from people, which allows for more human, personal messaging.
By the same token, don't rely solely on your executives' profiles, because if they do leave (and remember the average tenure for a c-suite executive is less than 5 years), they'll take the connections and influence they've had on your brand with them. It's important to have a strong mix of both. Creating an Executive LinkedIn program allows leaders within your organization to build their own reputations as industry thought leaders while amplifying their voices around your brand content and building brand credibility.
According to LinkedIn, there are 4 pillars of a successful executive LinkedIn presence. Understanding which of the four archetypes (The Visionary, The Evangelist, The Guide, The Mentor) your executives most closely identify with will help you shape your strategy and more clearly define each executive voice. Want to learn more? Email [email protected] with the subject line, "Executive Voices."
 Social Media Strategy #3: Nurture the 95
Only 5% of your target audience is actively ready to make a purchase at any given time, according to the B2B Institute at LinkedIn. So for every 100 buyers in your target audience, 95 of them do not need what you're selling—at least not right now. 95 of every 100 buyers come to LinkedIn for the insights, the lessons, the networking. Here's what we know to be true about them:
They do not want to be sold to.
They do not want to be taken off the platform.
They do not care as much about your business/products/services as you do.
They do multitask while on the platform and don't want to devote all their attention to something else.
They do care a lot about their own success and are looking for insights, tips, and trends that can help them look good, make a great impression, and reach their goals.
Why is Community Marketing the latest industry darling? Because bringing like-minded people together to engage and connect around a shared interest builds relationships and engenders trust. Which is exactly what social media is intended to do. But advertising took over, algorithms changed, and complex metrics have muddied the social waters. Your LinkedIn network, Instagram followers and Facebook friends are communities, too.
Remember that the goal is not just to convince your audience to buy from you while they're scrolling through their feed. What you really want is for your audience to remember you when they're away from the platform. Is your brand memorable enough on-platform to pop into someone's mind while they're streaming Netflix or walking the dog?
Especially in B2B, the buying cycle is much longer. Think about how frequently you change banks or purchase computer hardware. It might be every 3-4 years if not longer. LinkedIn conducted a study of B2B marketers and found that they expected to see results from bottom of funnel campaigns within 2 weeks. It simply won't happen.
You're not going to push your buyers from top to bottom of funnel because brands don't move buyers. Buyers will move when they're ready. It's much more important to link your brand to relevant buying situations, says LinkedIn's Ty Heath, well before they're ready to purchase, so that when they do enter the market, your brand is the one that comes to mind.
Yes, you should invest in the 5/100 who are "in-market", but you should invest even more heavily in the 95/100 who are "out of market" – these are the buyers who will generate your future cash flow. Nurture them with helpful, relevant, entertaining information and you'll build a long-term relationship that will only grow stronger over time.
Could you use behind-the-handle expertise to optimize your brand's social media efforts? Request consulting and social media management pricing.