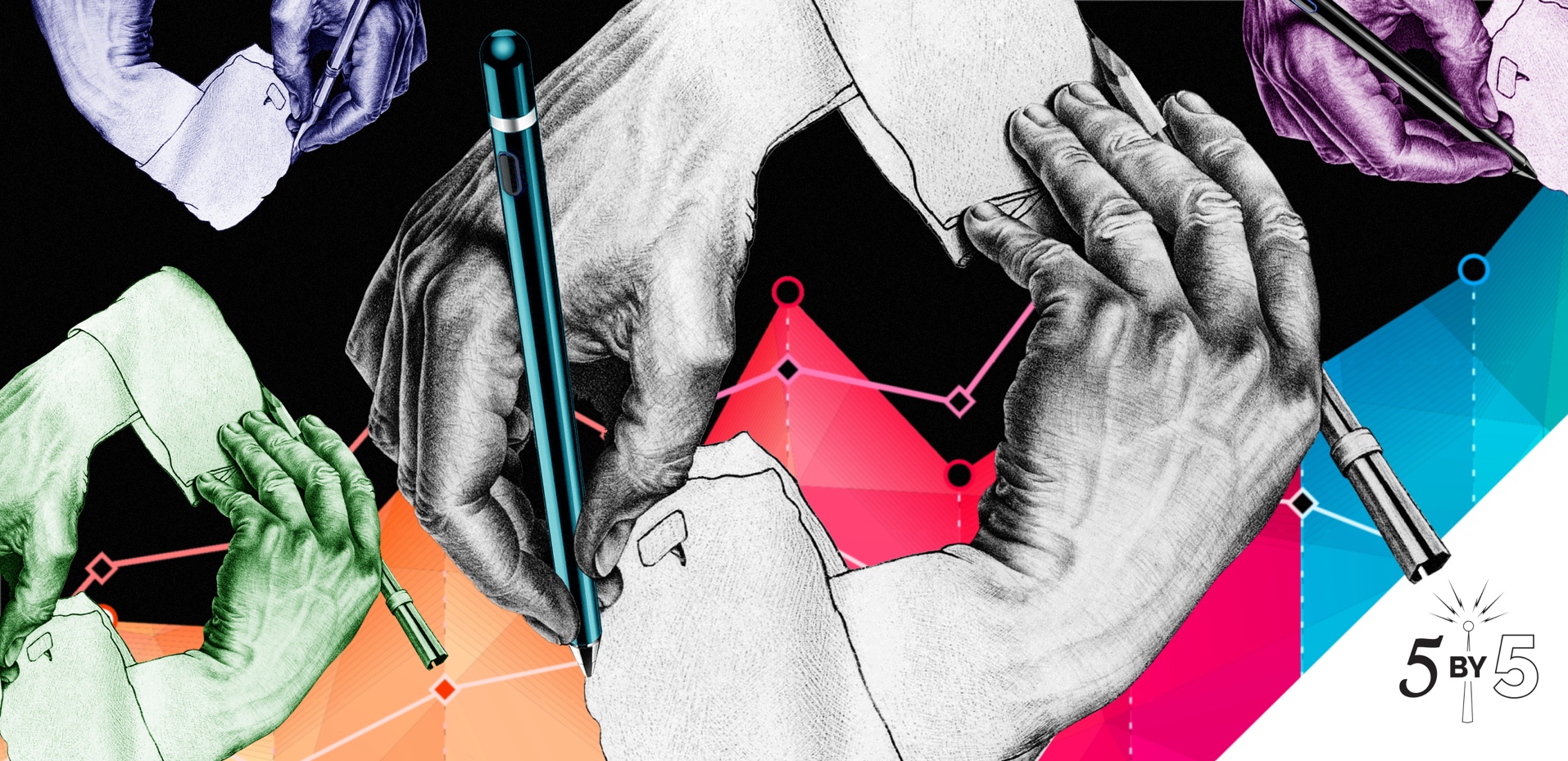 In just a few short months, Covid-19 brought about changes that would have taken several more years to accomplish under normal circumstances. In fact, according to a McKinsey survey, companies have accelerated their share of digital products by an incredible seven years.
While these leaps in technology will only continue, not everyone is as excited to move forward in a new normal, much less go back to life as usual. Extroverts have struggled, to be sure, and are ready to close the gap with real engagements after a year of social distancing. But not everyone was miserable during lock-down. In fact, for introverts it's been a bit of a blessing. And for "ambiverts" there are mixed emotions. Conversations about getting back to normal include how to behave in-person again at the office, with neighbors, and even between friends and family members.
In business, we'll need to re-navigate this new normal, too. Consider that by mid-April of 2020, engagement rates had reached all-time highs for the year on Facebook, Instagram, and Twitter. Pre-pandemic, eMarketer predicted social media usage would increase by just 6 seconds in 2020. But by May, that number increased by 7 minutes, for an average of 82 minutes per day. This massive  movement was music to social marketers' ears. But while digital touchpoints quickly took the place of physical engagements in the wake of the pandemic, marketers will now need to keep in mind that our new normal requires a more agile approach to appeal to consumers of all stripes.
So how can we step away from the digital edge without losing the technology advances we've gained? By employing ambidextrous marketing tactics.
Ambidextrous Marketing Tactic No. 1  Use Social Media to Make Informed Decisions
Use social listening tools to uncover your most loyal customers and create a brand ambassador program that allows them to shout your praises to their own followers. Those same tools can also determine which cities hold your most engaged followers. Use those insights to schedule limited-seating events in each city. Record the events to share short clips via social media with those who couldn't attend, and capture sound bytes for future promotional use.
[Related: Why Data is the Hero of Your Brand's Story]
Ambidextrous Marketing Tactic No. 2  See Your Customers' Perspective
Your virtual tour should give the audience a true perspective of what they'd see in person. That means paying attention to what they're most interested in and how they'd see the space from their personal viewpoint. For the grand opening of a client's pediatric dental practice, which caters to kids of all ages and abilities, we designed a virtual tour to mirror what young patients will see when they arrive for their first visit. Knowing that new environments can be especially stressful for kids with autism or anxiety, we used a drone to capture video footage at kids' eye-level. These seemingly minor considerations are nothing short of game changers for the audience.
Ambidextrous Marketing Tactic No. 3  Speak Your Audience's Language 
Marketers have gotten pretty good at identifying the right social platform for their target audience, but do you know how your audience behaves in real life, like, outside of social media? For some demographics, like teens, the line is blurred beyond recognition. More than 70% of Snapchat's 186 million daily active users fall into the 18-24 age bracket, squarely in the middle of Wendy's applicant demographic. To reach them in a highly competitive market, we produced 'Now Hiring' kits consisting of window clings, bag stuffers, and crew banners for Wendy's with custom Snap Codes so that those interested could quickly navigate to an application via their mobile phone.
Ambidextrous Marketing Tactic No. 4  Remember That Old School Cool
Take the time to write a personal letter – on real stationary –to a few highly engaged followers. Put it in an envelope with a real stamp, and mail it.  We know – crazy, right? But watch the impact it has on the recipient.
Ambidextrous Marketing Tactic No. 5  Roll Out the Red Carpet
Give micro-influencers and bloggers the VIP Treatment.  If you're hosting an event, invite local micro-influencers to stop by before the public storms the location. Even if the event is closed to the public, they'll help spread the word about your brand.  We created an invite-only event for one of our clients and invited micro-influencers in each city to attend.  Not only did it create additional traffic for our next stops along the tour, but it also generated early interest for future event tours.
Ambidextrous Marketing Tactic No. 6  Take it to the Streets
Fulfillment is the logistics end of your marketing programs.  Many marketers don't think about Fulfillment when it comes to Social, but even social media is the delivery of a (virtual) promise! Send your new followers some swag… a t-shirt, travel mug, or laptop sticker, as a thank you for engaging online. Be sure you include your social contact info on anything you send out. Remember when brands started adding their web address to TV ads, vehicle wraps, and signage (yeah, we're that old)? Social handles are the new URL. Aside from keeping the Google crawlers happy, being consistent across all social media channels also makes your brand easier to remember.
Ambidextrous Marketing Tactic No. 7  Plan Ahead for PR Opportunities
If you run a sweepstakes or contest that's 100% online, create a Grand Prize event that brings it to life.  Videotape the winner being handed his new car key, big check, or speedboat (you get the picture), and share it via social platforms. Not only will you bring your social campaign to life, and generate additional PR for your promotion, but you'll also remind consumers that yes, someone really does win these things.
Ambidextrous Marketing Tactic No. 8  Put Virtual Messaging in Your Audience's Literal Hands  
The average person receives about 120 emails every day. Even with enticing subject lines, it's not far-fetched to think your message might get lost in such a crowded space. One of our clients needed to get a message out to a highly targeted audience. We used a truly omni-channel approach, creating a digital asset that we blasted out via email and both organic and paid social media posts. Then we took it a step further and printed an oversized postcard that was mailed out to a targeted list of prospects. Hitting our market with both virtual and physical messaging doubled our response rate.
Even at the digital edge, be sure your brand is more than just an avatar, and remember that as our new normal continues to evolve, companies that are nimble enough to use an ambidextrous approach will be better positioned to reach buyers of all types and stay ahead of the competition. Want to make your brand memorable? Learn how reputation management can help.