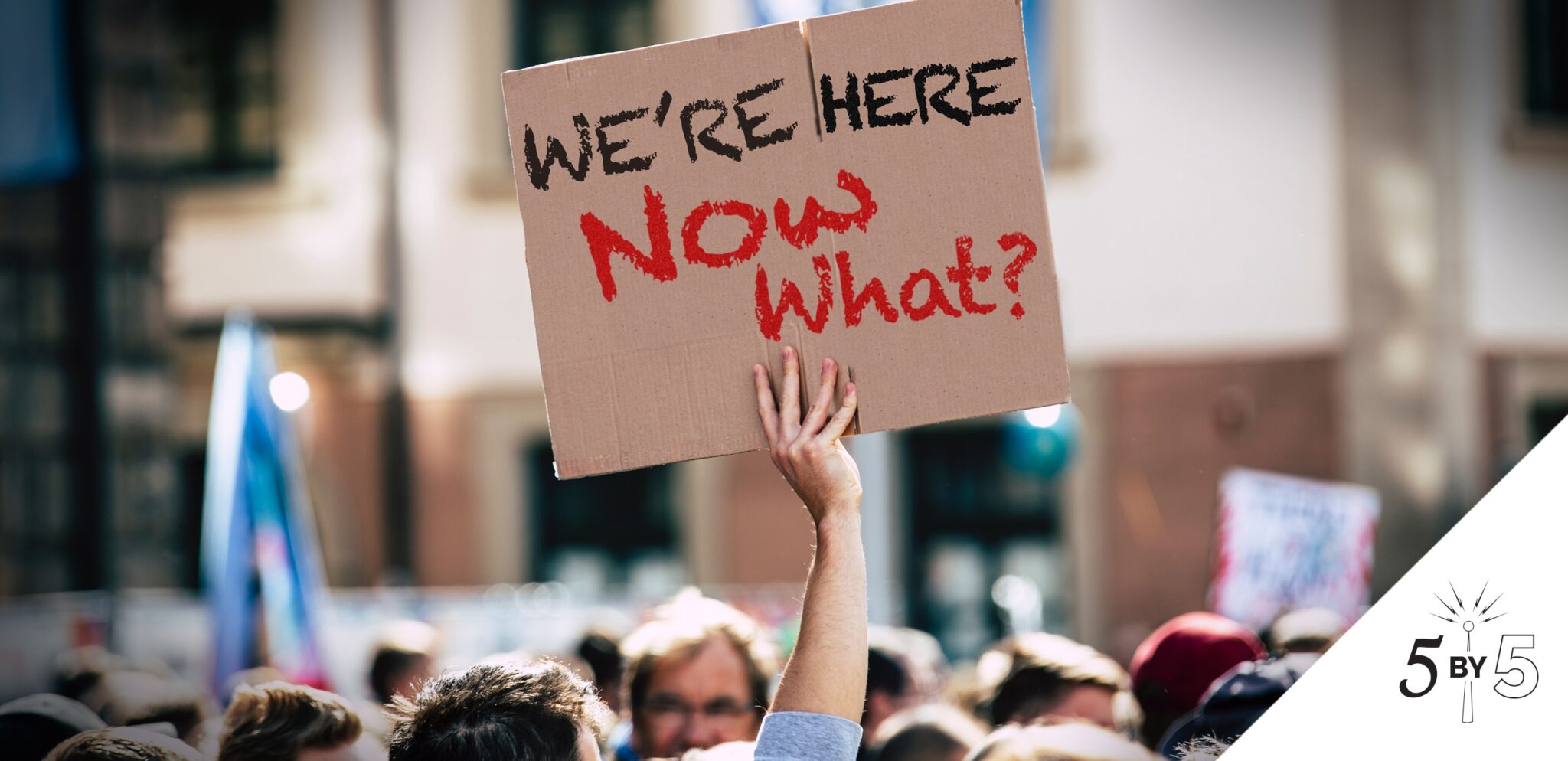 You probably hear people talking about it, you may see them doing it, you might even start doing it yourself if you haven't already: Unfollowing. Whether it's political or personal in nature, people are narrowing down their follower and friend lists on social media. Brands aren't immune. Consumers can unfollow a brand's social profile faster than they can unsubscribe from an email list. And it will only get worse as people want less noise and more calm. Less quantity and more quality.
When we ask new clients what their goals are for social media, the most common response we hear is "More followers." Everyone wants followers. The million-dollar questions is: What are you going to do with those followers once you get them?
The word "follow" implies a one-sided relationship—watch me, listen to me, like me. When you ask people to follow your brand what you're really doing is asking for permission to interrupt their carefully curated social feed. It's not a new tactic. From telemarketers calling your house in the middle of dinner, to emails that pop up at all times of the day and night, marketers have been asking for permission to interrupt as long as we can remember.
"No one likes to be hustled for attention." – Seth Godin
Today, the noise around us is deafening and all-consuming. At the same time, attention spans are short and fleeting. If we're lucky enough to grab someone's attention for a split second, we'd better make it worth their while. But are we?
We run follower ads but then don't share content relevant to our followers. We leave them wanting.
We run paid social ads to content that doesn't have a clear call to action at the end. We leave them hanging
We sell services or products but don't follow up to gauge their satisfaction. We leave them waiting.
Every time a brand doesn't follow through, it burns a bit of its audience's trust. The top reasons consumers unfollow brands on social media are poor customer service (49%), irrelevant content (45%), and too many ads (45%). If we ask permission, we must continually earn it or risk losing it.
When you ask for permission to interrupt, you want your audience to answer with a resounding yes. They do that when they know exactly what they're in for, and you should be well-equipped to meet or exceed their expectations.
"Customers want to be part of something." – Jay Baer
US adult social media users spend 7 more minutes per day on social platforms now compared to 2019, according to eMarketer's 2020 Social Media Usage Report. However, that increase is expected to decline in 2021, the same report notes, as the pandemic 'boost' wears off.
In a divided world, consumers are looking for ways to connect and belong. For brands, that means a shift from thinking of social as a way to sell to followers to social as a way to create an engaged community with a shared sense of trust and understanding.
Creating a community around your brand has multiple benefits, not the least of which are customer loyalty and revenue. When they feel connected to brands, more than half (57%) of customers will increase their spending with that brand and the majority (76%) will buy from them over a competitor, according to a Sprout Social report.
What does it mean to "feel connected" to a brand?
For many (66%) consumers, it's all about trust. More than half (53%) said they feel connected to brands that align with their own values and 51% said they feel connected to brands that "understand me and my wants."
There's a reason Facebook groups are gaining popularity; they foster community and limit outside noise. The industry has taken note; recent articles from trusted sources such as Mark Schaefer ("The Revolutionary Role of Customer Community") and TopRank explore consumers' need to belong and the coming shift from large paid awareness campaigns to more targeted authentic conversations found in Facebook Groups and on platforms like Reddit that have a strong sense of community.
The key takeaway in all of these articles is that brands must focus on creating a community of engaged consumers. Those that continue to focus on likes and follows alone risk falling into the "unfollow" column. Here are 7 ways to build an engaged social media community:
#1 Allocate a Paid Media Budget
Yes, you can "buy" followers, but not in the way you think. Paid ads help you reach a much wider audience and give you an opportunity to build awareness and let your target audience know – right up front – what they'll be getting if they follow you join your social media community. Just make sure you deliver by following through on your promises. [Get 5 tips for stronger paid social results.]
#2 Give 'em a Shout Out 
When new members join a club or community, they're welcomed. The same should be done with your social community. Call out new members, let them know you see them, and that you're glad they're there. Because when customers feel like they belong, they feel a sense of loyalty. And that loyalty leads them to advocate for your brand. In fact, they're more likely to recommend that brand to a friend (68%), be loyal to that brand (64%), and even shop there after a bad experience (38%). [Learn how to create and sustain a brand advocacy program here.]
#3 Deliver Exclusivity
If you tell your social media 'followers' you'll give them exclusive offers, but then give them the same benefits you give every new customer, you're not fulfilling that promise. Make sure they're the first to hear about new products or services. Share exclusive insights and tips that you're not sharing elsewhere. Run sweepstakes and instant win promotions, and then be sure to announce the winners to keep audience excitement up. [Get the 5 critical rules for running a social media sweepstakes or content.]
#4 Walk Your Talk
Brands that have a clear vision and purpose are better positioned to capture the hearts, minds, and wallets of an audience that shares those same beliefs. Share your CEO's vision, how your employees personify that vision and the programs and charitable organizations you support that align with your brand's mission. Absolut Vodka is a good example of this. Their new "Vote First" ad campaign (their first in three years) encourages US citizens to vote in the upcoming election. They've also adjusted their workers' schedules to ensure every Absolut employee can exercise their right to vote.
#5 Be Human
I gave my son a gift from Brooks Brothers for his 18th birthday. He shared a picture of it on Instagram and tagged the brand. They not only "liked" his post but replied to his comment. I think he was more excited about that than the gift itself! I've been in marketing for over 20 years now, but last week, I commented on an Instagram post of Bobby Berk's from Queer Eye. Not only did he like my comment, but he responded. I was so excited, I took a screen shot of it and sent it to friends and family. These marketing moments are what create a sense of belonging and lead to loyalty. Take the time to humanize your brand by engaging one on one with those in your community.
#6 Add Value
Think about your strongest personal relationships: they likely add value to your life, whether that's love, commitment, friendship, trust, understanding, shared experiences – perhaps all of the above. Our strongest professional relationships add value, too: shared goals or vision, ideas, information, etc. Brands can build stronger relationships with audiences by delivering content that's informative, entertaining, and conversational. Focus on 1:1 engagement with formats such as polls and AMA's (ask me anythings) to continually align with your audience and deliver on their needs and wants.
#7 Think Relationships Over Transactions
Marketing is the new sales, relationships are more powerful than transactions, and these days, relationships are built online. They're created over time, when we ask for recommendations, share helpful information, and respond quickly and professionally to complaints and requests. These all-powerful relationships are strengthened through transparency and honesty and by sharing your expertise. Transactional sales don't build trust, relationships do. And that trust leads to recurring sales and customer loyalty.
As 2020 comes to a close (and we all breathe a collective sigh of relief), social media users will likely look to start the new year with fewer interruptions in their social feeds and more purposeful engagement with brands. Building a community that your audience wants to be a part of is not something that can happen transactionally. It requires trust, value, and community, and that starts with giving your audience a reason to belong.
Want to give your brand a boost heading into 2021? Tour the Social Command Studio and learn how you can "Optimate" your social media marketing strategy.